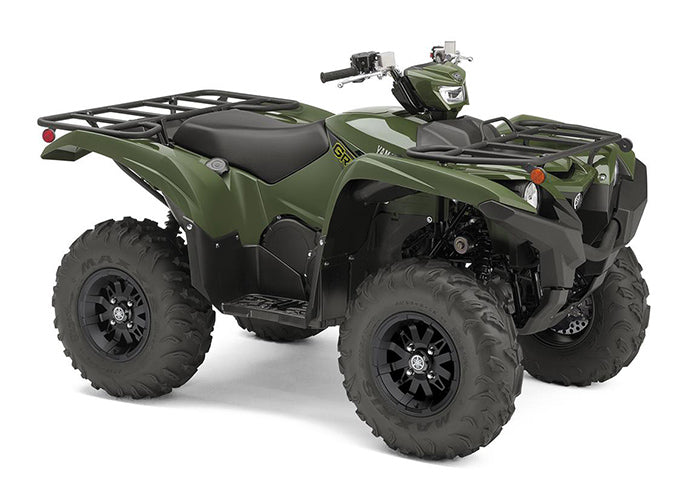 YFM 700 Grizzly
TOP FEATURES
POWERFUL 686CC 4-STROKE ENGINE


Grizzly now runs a new liquid cooled 686cc engine with improved engine response and lower vibration, noise and fuel consumption. A number of internal engine changes have been made including revised bore and stroke dimensions, a low friction plated cylinder – was cast iron - and the cast piston is now a forged item. A new air intake improves engine output especially in the key mid-range area while redesigned engine mounts make for even smoother running.

YAMAHA ON-COMMAND 4WD

The three-position On-Command® 4WD system lets you switch between 2WD, limited-slip 4WD and a fully locked differential 4WD all with the simple push of a button. An override button allows engine to reach maximum rpm in full diff lock mode, and a straight driveshaft layout eliminates U-joints for reduced friction, noise, vibration, and maintenance.

YAMAHA ULTRAMATIC TRANSMISSION                                                        Yamaha's Ultramatic transmission now features different CVT weights and gear ratios to suit each model. The system continues to feature a gated shifter, dual range (Hi/Lo) drive plus reverse gear, and is the most advanced — and durable — CVT drive system available. An automatic centrifugal clutch maintains constant belt tension for reduced belt wear and a sprag clutch delivers natural all-wheel engine braking.

INDEPENDENT LONG-TRAVEL ADJUSTABLE SUSPENSION

Independent double wishbone suspension, with 193mm of front wheel travel and 231mm at the rear, provides excellent rider comfort even on the toughest trails, thanks to nitrogen-charged shocks with 5-way adjustable preload.