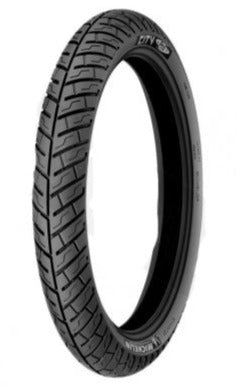 CITY PRO 3.00 X 18
Stick to the ground which in turn helps give a more precision-based ride. Significantly improves obstacle-clearing capabilities. Offers outstanding grip in wet or dry conditions without sacrificing durability. Outstanding performance on a wide range of surfaces. All-rubber compound and tread design helps provide exceptional grip, including on wet and slippery surfaces. 15% improvement in longevity and more stable performance over time compared to its predecessor.

Used by virtually every pro rider worldwide regardless of bike manufacturer
Perfect Michelin Bib Mousse compatibility for increased life
Exceptional wet grip thanks to secret rubber compound's high in Silica
Lightweight and strong for traditional and Extreme Enduro
Very responsive
Tyre exceeds competitor's tyre performance even when worn
OE fitment for Husqvarna/GasGas/Sherco/Beta
STOCK LIMITED, ENQUIRE FOR AVAILABILITY OR TO PLACE AN ORDER.